HOW CAN I RESIZE THE CPU/RAM OF AN EXISTING VM?
You can change the CPU or RAM of your VM in 3 simple steps:
Step 1: Shutdown your VM
You must first shutdown the VM strictly via its action menu in Cyclades. DO NOT try to shut it down from the inside (see this reboot/shutdown FAQ).
Step 2: Resize your VM
Once your VM is shut down, choose the "Resize" action that is next to your VM. Then, choose the desired number of CPUs and/or the RAM size that you want and press on the "Resize machine" button, as in the following picture: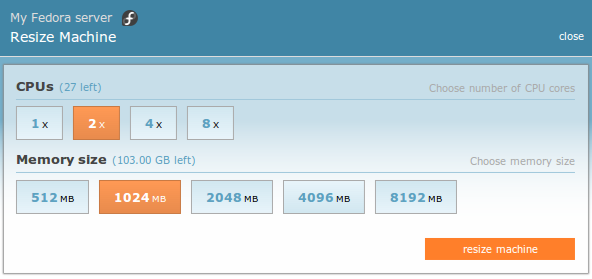 Step 3: Start the VM
After the resize has finished, you can start your VM and it will boot with the new specifications.